Mercedes-Benz EQS Sedan In Selma, TX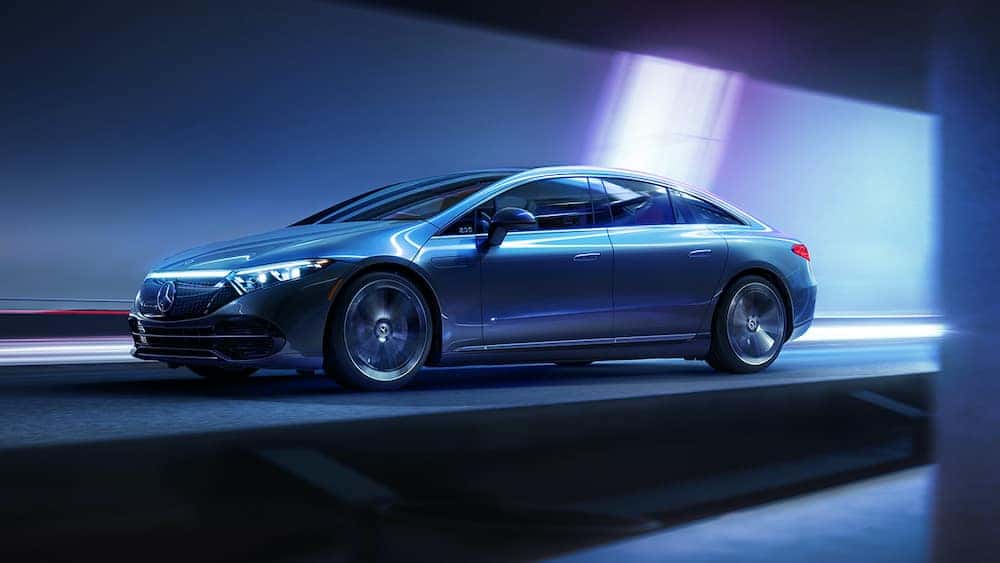 Continually redefining the meaning of true luxury, the 2023 Mercedes-Benz EQS bridges the gap between elegance and sustainability with the first-ever electric luxury sedan. Here at Mercedes-Benz of Selma, we offer our drivers the all-new Mercedes-Benz EQS. From its sophisticated design to environmentally sound performance levels to intuitive technology features, the electric luxury sedan will forever change the perception of electric driving.
What's New in the 2023 Mercedes-Benz EQS
The 2023 Mercedes-Benz EQS is the first Mercedes to utilize a platform exclusively designed for electric vehicle (EV) models. Marked as a major milestone in integrating progressive mobility with executive-class luxury, the electric sedan is one you do not want to miss out on.
Performance
At the heart of it, the 2023 Mercedes-Benz EQS is electrically powered by a next-generation lithium-ion 108.4 kWh battery, producing 329 hp and 417 lb-ft of torque and reaching 60 MPH in just 5.9 seconds. Available in a branded 4MATIC® all-wheel-drive powertrain, the new Mercedes-Benz EV packs an extra power of punch while uniquely carving out space for tranquility within the cabin.
With the ability to charge the battery from 10 to 100 percent in approximately 11 hours and 35 minutes using a DC fast charger, the new Mercedes-Benz EQS sets a benchmark in performance, efficiency, and charging capacity. Our Mercedes-Benz dealership in Selma, TX features a charging station for your convenience as well.
Design
With the aerodynamic, seductively sculpted silhouette and aesthetic cultivated interior, the new Mercedes-Benz EQS is captivating from the inside out. Labeled as an EV, but with S-Class design cues, the electrically charged sedan is a one-of-a-kind luxury vehicle.
From an LED light board that stretches across the entire front grille to a 126.4-inch wheelbase creating more interior and cargo space than any electric vehicle sedan on the market, you will be sure to catch the eyes of everyone on the roads of Selma, TX.
Technology
The 2023 Mercedes-Benz EQS offers a whirlwind of state-of-the-art advanced features marking a new way of interaction between humans and technology. The integrated navigation system uses electric intelligence to calculate your driving route while taking into account changing stops, weather conditions, and topography. At the center of it all, a Mercedes-Benz exclusive 56″ curved glass touchscreen stretches from door to door as the largest display ever in a production Mercedes-Benz.
The 12.8-inch OLED touchscreen central multimedia display acts as one massive display that allows access to nearly all EQS features including, changing, entertainment, phone, navigation, connectivity, massage, and more.
Learn More About the 2023 Mercedes-Benz EQS in Selma
If you would like to learn more about the 2023 Mercedes-Benz EQS, be sure to schedule a visit to the new star in town, Mercedes-Benz of Selma. Please feel free to contact our team as we proudly serve the areas near New Braunfels, Cibolo, San Marcos, Seguin, and Canyon Lake.