Electric Mercedes-Benz Near San Antonio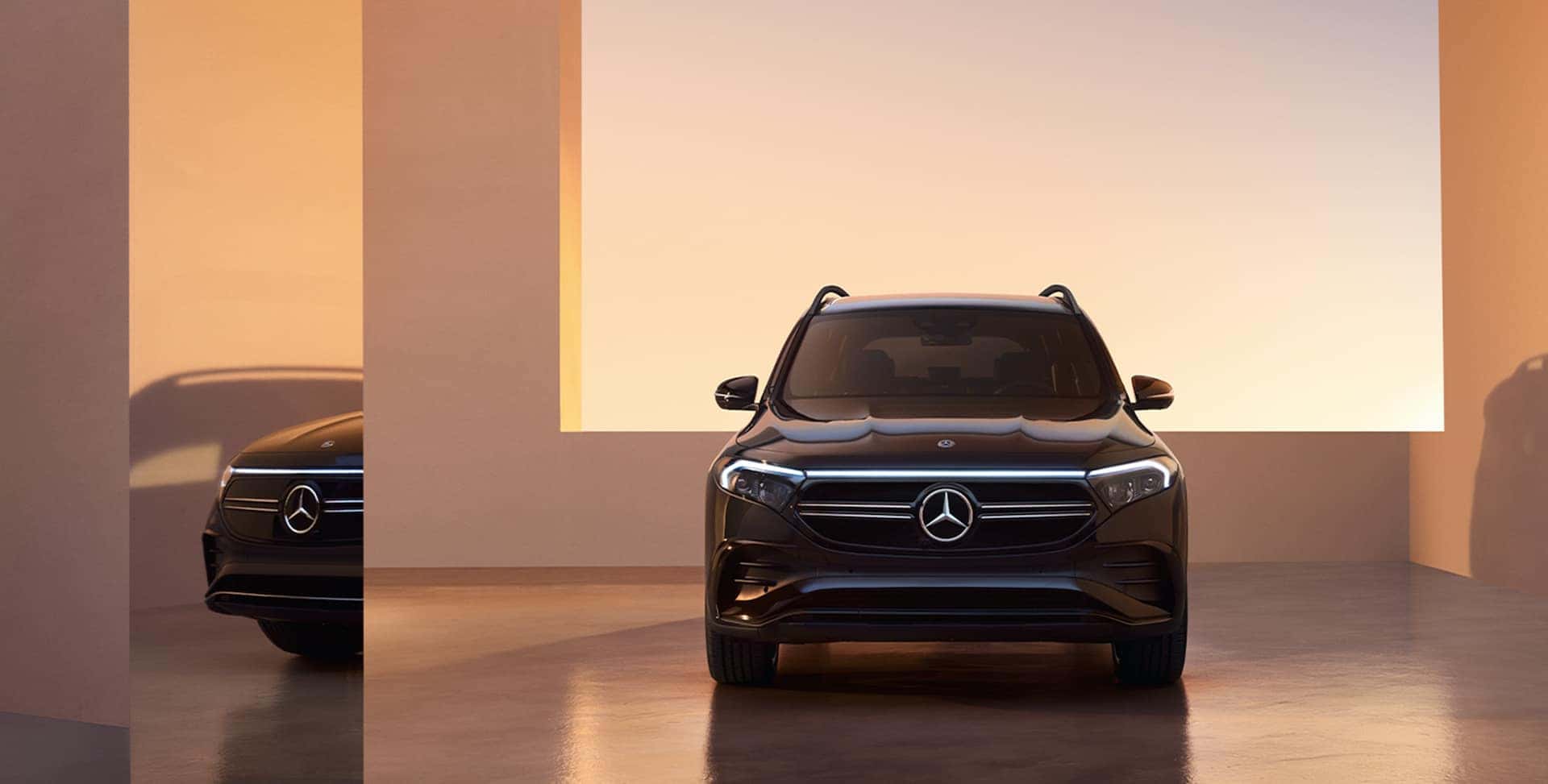 Shop for a New Electric Mercedes-Benz
Mercedes-Benz has been proud to take drivers on a journey with their expansive lineup of luxury sedans and SUVs, and while that journey continues, a new one has emerged. The impact of fully electric vehicles is embedded in the automotive future, and Mercedes-Benz offers different gateways to the evolution of electric luxury.
Our electric Mercedes-Benz inventory is full of great models to choose from, as they truly transform the driving experience while staying true to Mercedes-Benz design, comfort and performance.
Meet the Electric Mercedes-Benz Lineup
Mercedes-Benz EQB SUV
The all-electric Mercedes-Benz EQB SUV seats up to seven, filled to the brim with intelligent technology and thoughtful luxury.
Individual front and rear electric motors work together to achieve 225 horsepower in the EQB 300 and 288 horsepower in the EQB 250. Both deliver instant torque and seamless response, with 4MATIC® all-wheel drive adapting in fractions of a second to optimize grip and handling.
Acceleration: 7.0 seconds
Battery Capacity: 70.7 kWh
Electric Range: 243 miles
Mercedes-Benz EQE Sedan
The Mercedes-Benz EQE Sedan brings the quintessential Mercedes-Benz experience you know and love to an electric sedan.
The EQS uses clever magnets and battery software that can update over the air, while achieving 288 horsepower (EQE 350 and EQE 350 4MATIC®). The EQE 500 4MATIC® sends 402 horsepower, while electrified 4MATIC® all-wheel drive can adapt 10,000 times per minute.
Acceleration: 6.2 seconds
Battery Capacity: 90.6 kWh
Electric Range: 305 miles
Mercedes-Benz EQS Sedan
The Mercedes-Benz EQS Sedan emphasizes attentiveness, responsiveness and imagination. Like no electric car you've seen or felt before, the EQS is built for tomorrow, today.
Smooth, swift and sure, the advanced electric motor can turn 417 lb-ft of torque into rapid response in the EQS 450+. Dual front and rear-axle motors provide 631 pound-feet of torque in the EQS 580, while electrified 4MATIC® all-wheel drive adapts the torque 10,000 times per minute.
Acceleration: 5.9 seconds
Battery Capacity: 107.8 kWh
Electric Range: 350 miles
Mercedes-Benz EQS SUV
The Mercedes-Benz EQS SUV is a reinvented and reimagined electric SUV, stunning with its performance and versatility across the board. The EQS 450 achieves 355 horsepower from a single motor, while dual motors in the EQS 450 4MATIC® race from zero to 60 miles per hour in 5.8 seconds.
Finally, dual motors in the EQS 580 4MATIC® add up to 536 horsepower, leading to a zero-to-60 mark of just 4.5 seconds.
Acceleration: 6.5 seconds
Battery Capacity: 108.4 kWh
Electric Range: 305 miles
Shop for a New Electric Mercedes-Benz Near San Antonio
If you are interested in an electric Mercedes-Benz, schedule a test drive with us at our Selma dealership. If you have your eye on a certain model, feel free to use our payment calculator and online finance application to start the car buying process from the comfort of your home.
If you have any questions about electric Mercedes-Benz offerings or any of the vehicles available in our new Mercedes-Benz inventory, you can always contact us at Mercedes-Benz of Selma.